3rd April, 2023
New Product – TankBoost
No matter the size of the household or the number of outlets running in the kitchen or bathroom, good water pressure and flow is a must have for households.
That is why we have launched 'TankBoost', an easy to install, single unit solution to ensure water performance remains at optimum levels even in large, multi-storey homes.
TankBoost will deliver flow rates up to 80L/min and pressures up to 3.0 Bar, ideal for even the busiest homes where showers, taps, toilets and more are being used at the same time
Our new product is an exciting extension of our MainsBooster range, which has been developed to ensure multiple outlets receive sufficient water all at once. TankBoost combines a cold water storage tank and an integral pump. The high-quality stainless-steel pump is submerged within the tank, this means that it is extremely quiet throughout operation.
The new product has been designed to meet the water pressure and flow needs of domestic and light commercial installations, with four tank sizes available ranging from 100L to 450L. Additional storage tanks are also available to increase capacity for large properties or those with particularly low incoming flow rates.
TankBoost will overcome insufficient water pressure and flow in combi or unvented systems.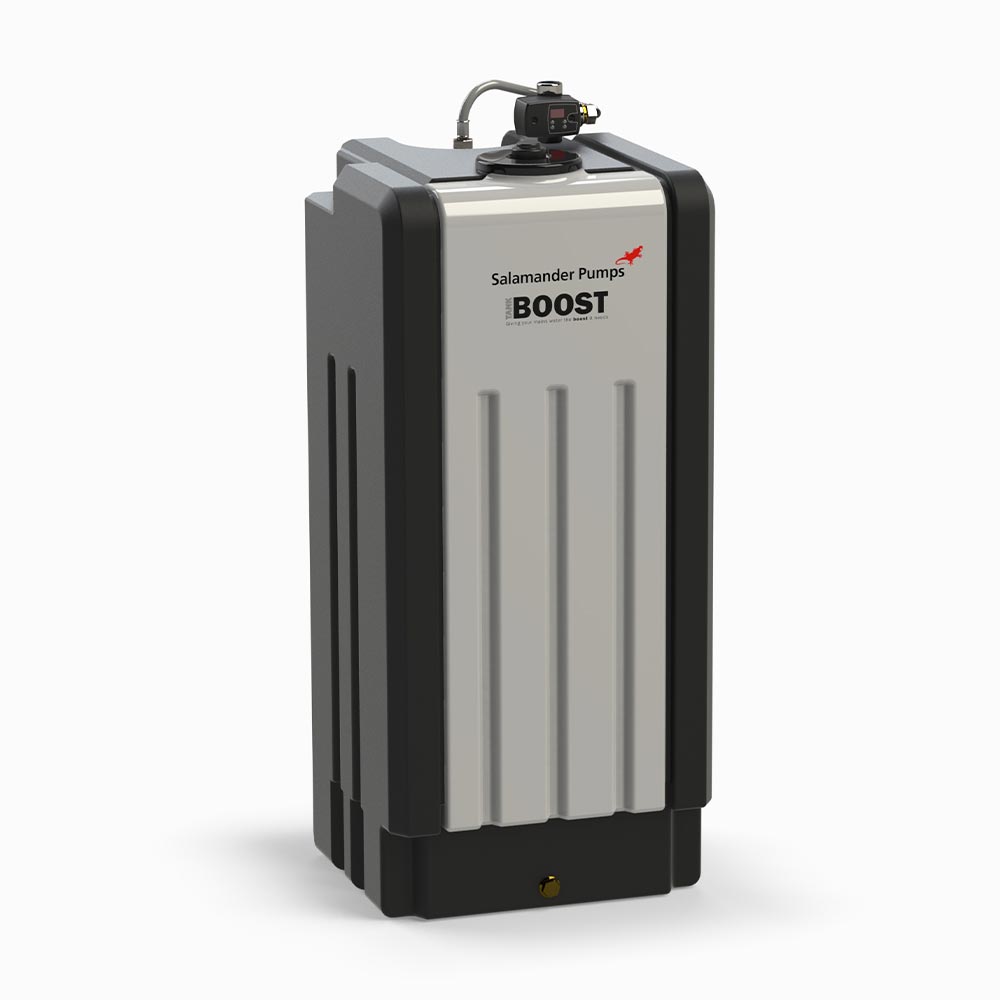 For homeowners, It's cost-effective solution that can be trusted to 'run the show' – working hard to meet the water performance challenges that often occur when multiple outlets are running at once, e.g.in larger, multi-storey properties, such as extended homes, HMOs, social housing settings, hotels and B&Bs.
TankBoost is the first product in our product range to deliver flow rates beyond 36 L/min, ensuring powerful showers, strong flowing taps, and quick toilet cistern replenishment, even when they are being used at the same time.
The typical application for the product is a larger dwelling, with several floors and bathrooms, however, it can also service smaller properties due to its compact size.
TankBoost is currently available in four different sizes, 100L, 200L, 350L and to 450L, meaning solutions are available for properties of all sizes. Where a property has particularly high water demand, and space is not an issue, tanks can be linked with additional storage units to increase capacity.
CAT5 variants and additional water storage tanks are also available as part of the range, and the product comes with a two-year warranty.
We'll be providing comprehensive guidance to support plumbers with the specification and installation process in the form of webinars, step by step guides and e-school content.
If you're still unsure which product is right for your household's needs, Salamander Pumps has an easy-to-use online product selector tool to identify which tank is best suited to the job in hand.