31st March, 2023
Pump Industry Awards Win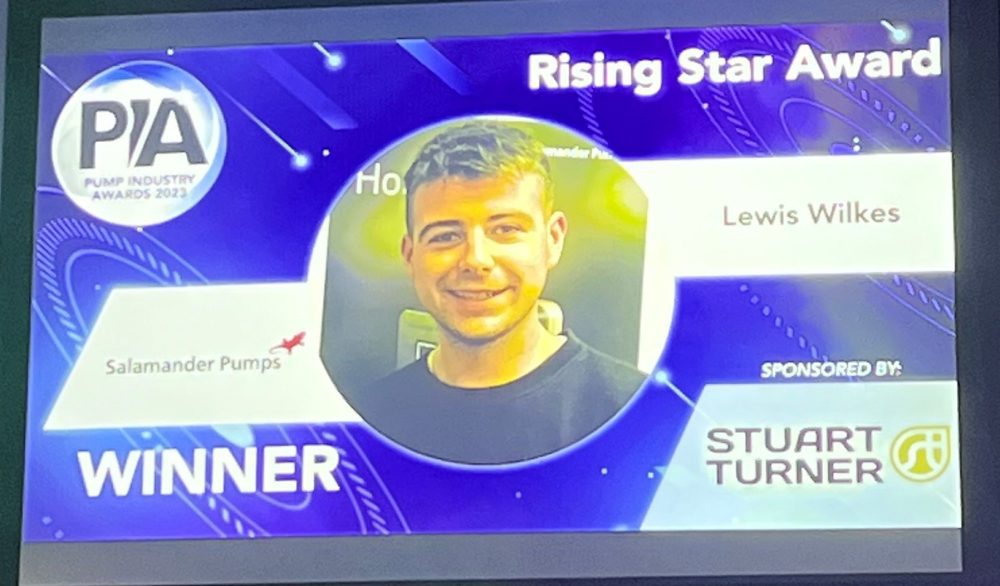 Salamander Pumps recognised in prestigious award ceremony appearance.
On 16th March, a contingent of the Salamander Pumps team attended the highly anticipated 2023 Pump Industry Awards ceremony.
The team was delighted that project engineer, Lewis Wilkes, beat out tough competition to take home the Rising Star Award.
Since joining Salamander Pumps as an engineering apprentice, Lewis has not only completed a mechanical/electrical engineering apprenticeship but also gained a bachelor's degree in Mechanical Engineering, with First Class Honours.
A very deserving winner of the award, Lewis most recently completed his first New Product Development project with the launch of our single outlet boost pump TapBoost, where he played a significant role in souring the components for the product, as well as in the design and development process.
Claire Thompson, Director of Marketing at Salamander Pumps, said: "It goes without  saying that the entire team is very proud to see Lewis' career flourish here at Salamander Pumps as he establishes himself as a valuable asset on the engineering team. We look forward to seeing Lewis' career progress as he continues to play a vital role in helping maintain our position as one of the UK's leading manufacturers of domestic water pumps."
The ceremony also saw TapBoost named among the front runners for the highly sought after Product of the Year award. Named as one of ten finalists, TapBoost was shortlisted for its ingenuity, as a single outlet booster pump capable of boosting water flow to a single outlet to between 7 – 11 l/min, depending on the incoming flow.
TapBoost was specifically designed for both mains and gravity fed systems and can be installed on various individual outlets throughout the home to deliver a quicker bath fill, increased flow to the kitchen tap and faster toilet cistern replenishment. As an easy to install, quiet in operation and cost-effective solution, it was gratifying to see TapBoost named among the UK's best pump products over the last year.
The commercial success of TapBoost has demonstrated the value and demand for efficient and reliable pumping solutions in the market.