21st June, 2023
Salamander Pumps Partners with Racine
Access to drinking water is essential for those who work outdoors or for hosting public outdoor events.
For instance, one of the crucial issues on the rail is the availability of drinking water for workers where they actually work. They may have to walk one mile down the track from where their welfare/van is parked, and currently it is the case of either walking back or using plastic water bottles. Not only is it single-use plastic, but the bottles are often left on the side of the track.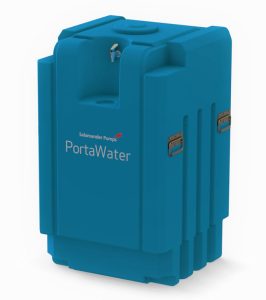 Designed to provide fresh potable pressurised water access anywhere away from a water source, PortaWater by Salamander Pumps is ideal for outdoor workers, welfare units, festivals, recreational sport events (e.g., marathons). The water tank is insulated to ensure the water doesn't get too hot or cold.
The new product has been designed to provide enough water for one day, so you don't have to return to welfare units or utilize single-use plastic. PortaWater is available in four tank sizes ranging from 30L up to 200L.
Regardless of the amount of water remaining in the PortaWater tank, the system provides a constant water pressure sufficient to quickly refill any water carrier. The new product is equipped with a pressure gage to demonstrate how full/empty it is.
PortaWater doesn't need any electrical supply, which makes the product not only portable, but also environmentally friendly. Also, PortaWater is equipped with handles for easy transportation.
In partnership with Racine UK, PortaWater will be presented during the Rail Live 2023 exhibition.
Other variants of the product are available, providing portable, potable and pressurised water for use in welfare units, to hose down equipment or to providing refreshing hand washing facilities.
The Smarter Water Solution for Outdoor Worker Welfare
Fresh water supply (equivalent to 60 bottles)*
Insulated with temperature monitor
Non concussive self-closing tap
Gauge to monitor water levels
Available in a range of sizes
Eco-Friendly Solution
PortaWater provides a portable and refillable solution to on-site drinking water supply so you don't have to return to single-use plastic. Larger refill stations also available.
Reduction in single use plastic
Environmentally friendly (reduce waste left on track)
Carbon saving through improved logistics
Reduction in waste water
For further information contact info@racinerailroadproducts.co.uk or complete the enquiry form.