2nd May, 2023 | GravityBooster Range | Domestic Home
CT Force Installation – Gordon's Property Maintenance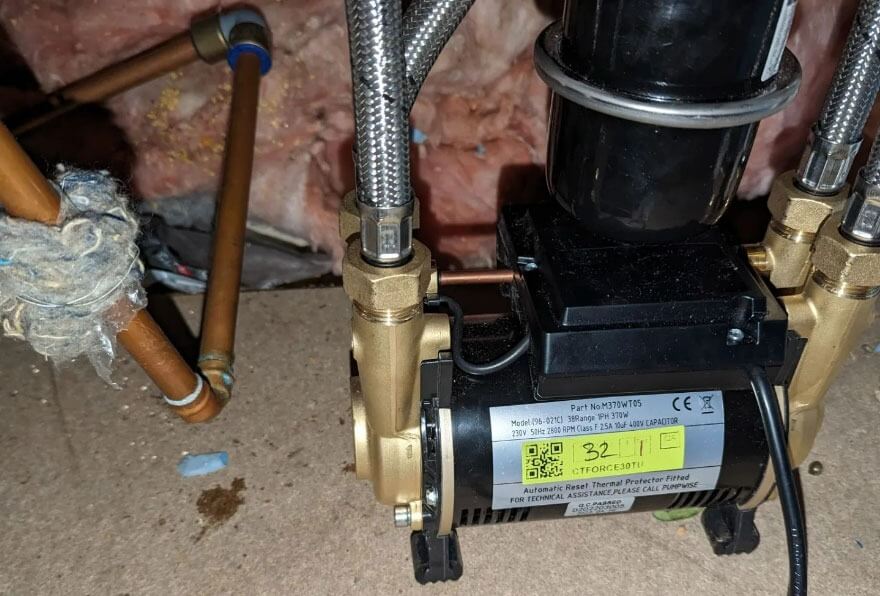 Product: CT Force 30TU
System type: Gravity fed system
Installer details: Gordon's Property Maintenance
Date of install: May 2023
Problem
This customer was suffering from very low water pressure from the gravity fed vented cylinder and loft water storage tank. Gordon's Property Maintenance encountered four similar jobs involving low water pressure in the last three months. Various solutions were explored, with most requiring the installation of a pump, particularly for the bathrooms. However, finding the best option to improve overall flow throughout the house became a priority.
Solution
After researching different options and receiving recommendations from multiple plumbers, Gordon's Property Maintenance came across Salamander Pumps and specifically chose the CT Force 30TU. This pump stood out as the best option in terms of market quality, as it could boost both hot and cold water, improve flow throughout the house, offered competitive pricing, energy savings due to a single pump installation, easy installation process, and the ability to be easily removed for future maintenance.
The job took place in Methlick, Scotland, involving a loft storage tank and a vented hot water cylinder. The objective was to boost pressure throughout the entire house.
The manual and online instructions provided by Salamander Pumps were comprehensive and helpful. Once the existing system and required modifications to the pipework were understood, the installation process was straightforward. Some adjustments to the existing pipes were necessary but proved to be simple.
The client expressed great satisfaction, noting that she had never experienced such a substantial water flow in her house before. The CT Force pump successfully resolved the low water pressure issue, leaving the client delighted with the results.