9th December, 2022 | AccuBoost Accumulator Vessels | Domestic Home
AccuBoost Installation – London and Surrey Services
Salamander Pumps were asked to identify a solution to low water pressure and flow at a property with an old mains booster set that wasn't efficient. Here we hear from the installer who contacted us to resolve the problem.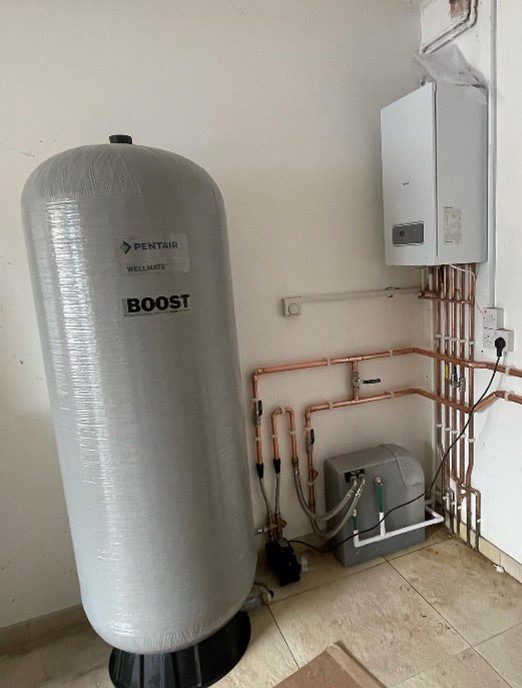 Product:AccuBoost Unvented 450L With a Pump
System type: Mains fed system
Installer details: London and Surrey Services
What was the issue with the property?
There was a mains booster pump fitted in the property but it was noisy and wasn't delivering the boost to the water pressure that the customer required. The householder wanted to be able to run two showers simultaneously.
Do you come across this type of issue often?
I hadn't previously come across many jobs that require accumulator tanks, however since expanding out into different areas I'm coming across a lot more properties that are in need of them.
Where did you hear about AccuBoost?
I heard about AccuBoost from HPS in Epsom, it was highly recommended.
What made you decide on AccuBoost?
AccuBoost was recommended by my local merchant and my local Salamander Pumps BDM, Ian Donnan, talked me through my options on the phone. I liked that he suggested a site visit from himself, due to the property's size.
Who specified the unit and how easy was the process?
Ian Donnan, my local BDM, came to the property and carried out a site audit. He spoke with myself and the customer in detail about the property and how often each outlet is used.
Can you provide details of the installation?
The property originally had a breaker tank and an old mains booster pump. The garage space was being altered which presented an ideal opportunity to change the system. A 450-litre AccuBoost accumulator vessel with a pump was required, with the potential of adding another accumulator if needed in the future. The install was very easy due to the available space.
Did you require additional support from Salamander Pumps?
I didn't require any additional support, as everything was explained so well explained by Ian Donnan.
How did you find the install?
The install was excellent, and the pump was a lot quieter than expected, leaving the customer very pleased with the level of noise compared to the previous pump.
How does the customer feel about the installation?
The customer was very happy with the install and pressure provided from AccuBoost. It supplies more than five bathrooms in the property effectively and they are now able to comfortably run two showers simultaneously, so they are more than happy. The noise and pressure provided was 10/10.